Administrator
Staff member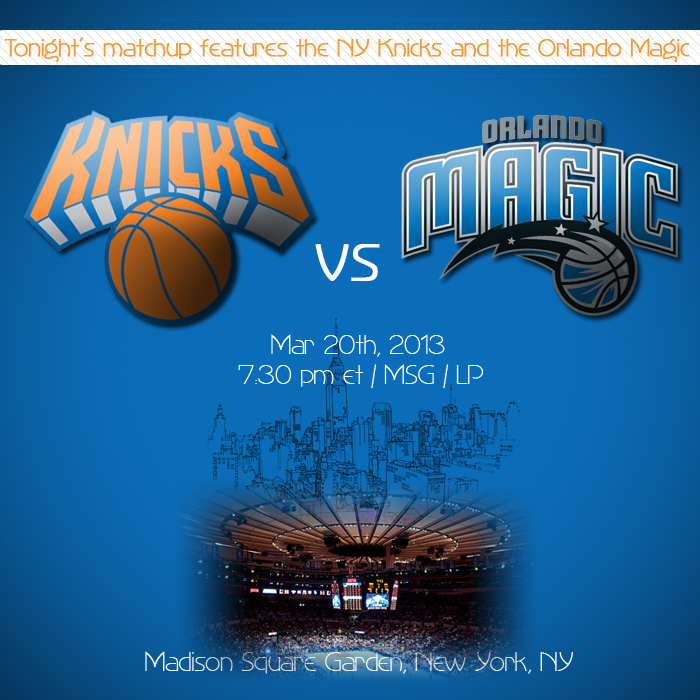 Joint of the day
​
NBA.com preview



Carmelo Anthony likely will be back for the New York Knicks, who will be happy to have their superstar replace another forward out due to injury.

Anthony is expected to return Wednesday night at home when the Knicks will be without Kurt Thomas as they look to complete their first season sweep of the Orlando Magic in 15 years.

Anthony has missed three straight games after having fluid drained from the back of his right knee, but he practiced before sitting out Monday's 90-83 victory at Utah. His return will provide a sorely needed boost to coach Mike Woodson's makeshift starting lineup that also includes Kenyon Martin, Iman Shumpert, Raymond Felton and Pablo Prigioni.

"I know how important this stretch run is for us, for me, for our whole organization," Anthony said. "I went out there and tried to play hurt, banged up, it didn't work. I was only hurting my teammates by going out there and trying to play, so I'm not rushing back. But tonight I feel good, I felt good the last couple of days, so I'm going to see what happens."

New York (39-26) avoided a season-high fifth straight loss with a makeshift lineup, and the 40-year-old Thomas was a catalyst with six points, three rebounds and a season-high three blocks in a season-best 27 minutes.

Thomas was playing with a bone spur in his right foot, and an exam on that foot revealed an acute stress reaction surrounding a chronic stress fracture. He will now miss up to four weeks.

The Knicks remain without All-Star center Tyson Chandler, who will be out a week with a bulging disc in his spine.

Chandler's absence Wednesday will be good news for Orlando (18-50). He is averaging 15.7 points on 87.0 percent shooting to go along with 8.3 rebounds to help the Knicks go 3-0 in the season series.

New York last swept Orlando when it won all four 1997-98 matchups.

Monday's win helped New York maintain its one-game Atlantic Division lead over Brooklyn. The Knicks lost the first four games of their trip by an average of 20.0 points.

"It's hard to win here, and to play a good team that's played well at home and be short-handed like we were, we stepped up," Woodson said.

This contest begins a critical three-game stretch against losing clubs for New York, which has a home-and-home set with Toronto this weekend. A 3-0 mark would give them momentum when Chandler hopefully would return for next week's back-to-back with Boston and Memphis.

"We just gotta get 'Melo and Tyson back in gear and get them going again and keep this thing going because we've still got a lot of basketball left," Woodson said.

J.R. Smith is averaging 23.3 points in this stretch without Anthony, with 29 foul shots - his highest total over a three-game stretch. He hit 24 of those free throws.

"That's what he has to do, when the jump shot's not falling, he has to attack," Martin said.

Orlando was held to season-low 31.8 percent shooting in its fourth straight loss, 95-73 at Indiana on Tuesday. Arron Afflalo and rookie Maurice Harkless were the only Magic players in double digits with 10 points apiece while coach Jacque Vaughn was ejected.

"Early on, I thought we looked good shooting but they didn't go in," Vaughn said. "Whether it was a putback, we had a dunk attempt or an open 3, it just didn't go in."

New York is averaging 22.0 points off turnovers against Orlando this season. It is also averaging 8.7 turnovers compared to the Magic's 15.0.

Jameer Nelson is averaging a team-high 25.0 points and 8.5 assists in two games against New York while Afflalo is averaging 21.0 points in two as well.
Starting Lineups



Keep an eye on:

the #PeteRockTakeover hashtag on twitter
MSG Network for the postgame coverage with Patrick Ewing!
Last edited: