http://www.draftexpress.com/article/Just-By-the-Numbers-This-Years-Point-Guard-Crop-3262
Just By the Numbers: This Year's Point Guard Crop

by: Matt Kamalsky
June 17, 2009
A key component of the game of basketball, statistics are both exalted for their accuracy and condemned for their ridiculousness. Each season someone comes out with a new way to value a player on paper, and each year a debate arises over its value. In recent seasons, Synergy Sports Technology and other companies have brought on a new generation of statistics in basketball, and along with the likes of John Hollinger and Dean Oliver, have changed the way scouts break down the numbers. Accounting for every jumper missed on a fast break, pick and roll from the top of key, and bad pass in crunch time, the data at the disposal of NBA decision-makers seems to get deeper almost daily. As statistics become more advanced, you can even start to predict what areas a college player may struggle in moving forward based on what their numbers in college or where they may still have upside.

In part one of our five part series, we examine this years point guard crop strictly by the numbers. In our point guard comparison, we were unable to include Patrick Beverley, since the Ukrainian second division isn't part of our statistical database. However, we are including Rodrigue Beaubois and Nando De Colo, two players whose numbers we didn't have last season when we did this analysis.

Although these numbers aim to put every prospect on a level playing field, it is important to consider their age, level of competition, and often their role when judging the significance of their numbers.

To gain a better understanding of the statistics used, visit the glossary by Noah Libby-Haines. Interested in making your own statistical comparisons? You can do so here.

Note: The blue dots next to the names of the European prospects indicate that the row they're in are Euroleague statistics. The other column without the dot display their domestic league numbers.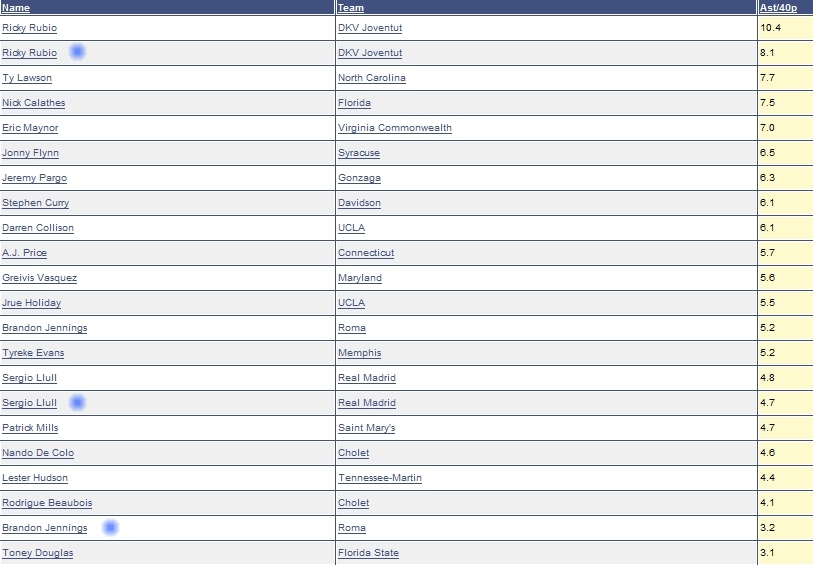 Ricky Rubio posts the two highest marks in this category with his impressive ability to set the table for his teammates. His 10.4 assists per-40 dwarfs Ty Lawson's 7.7 and is simply outstanding for any player, let alone an 18 year old in the second best League in the world. Even his Euroleague numbers are excellent, telling you a lot about how well he got everyone involved while playing essentially one-handed. Maybe he isn't "all hype" after all?

Lawson's status as the best point guard in college basketball this season continues to ring true here.

Nick Calathes checks in at 7.5, which is an accurate indicator of his ability to get others involved, as well as score.

Jrue Holiday, Brandon Jennings, and Tyreke Evans fir right around the middle of our list at 5.2-5.5. Toney Douglas lands in last at 3.1 assists, which supports the conclusion that he is much more of a shooting guard than a point guard at the moment. Similar things might be said about Patrick Mills, Rodrigue Beaubois and Lester Hudson.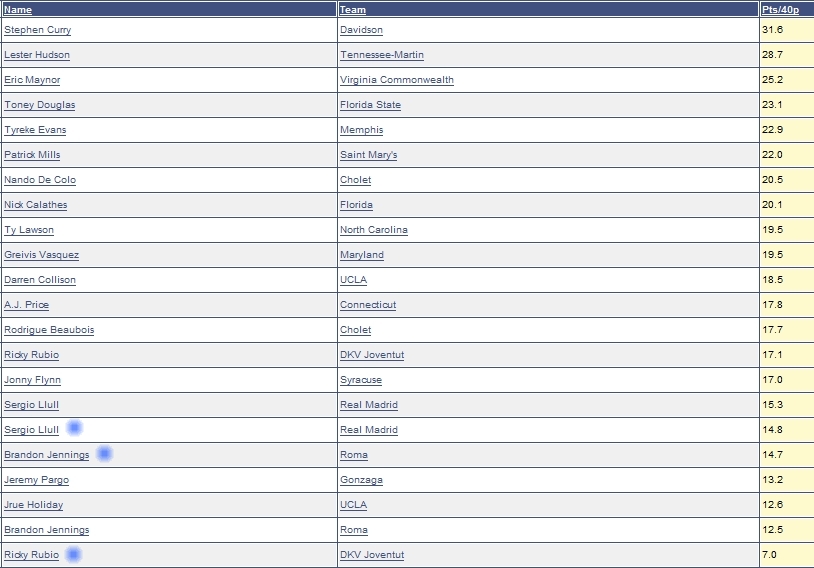 This is a good place to start with the point guard crop, as it helps us understand the role that the player played on his team, and his mentality as a playmaker or scorer.

Lester Hudson couldn't repeat as the top per-40 scorer in our database thanks to Stephen Curry's 31.6 point average.

It is unsurprising to see three small school players at the top of our list, since these players are typically asked to do more, and wouldn't be warranting attention if they weren't carrying their teams the way they have. Toney Douglas is our first big school name on the list at 23.1, while potential lottery pick Tyreke Evans was just behind him at 22.9 per-40. Nando De Colo is the first international prospect on our list with 20.5 points per-40 in the French League, easily the highest amongst European players. The second highest comes from his teammate Rodrigue Beaubois at 17.7 per-40.

Three probable lottery picks, Ricky Rubio, Brandon Jennings, and Jrue Holiday close out our rankings by falling under 13.0 points per-40. While Jennings and Holiday have their own excuses, Ricky Rubio's 7.0 point per-40 tell you a lot more about his wrist injury than his actual play in the Euroleague, as he was playing just a few games with only one hand. Jennings in contrast actually did a slightly better job against better competition, which is notable as well. Holiday's struggles to score at UCLA have been well documented, and surely have to be considered somewhat of a reason for concern.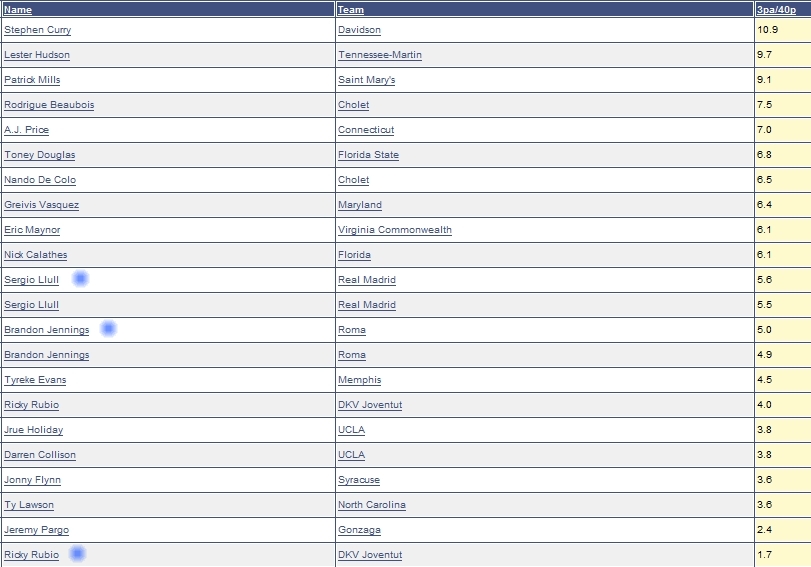 Stephen Curry's place in the last category has a lot to do with his place in this one. Curry took almost 11 three-pointers per-40 minutes, a truly overwhelming total. Lester Hudson falls in the same boat, checking in at number two on both lists, while Patrick Mills rounds out the top three here, but didn't make enough of the many threes he attempted to place himself as high on the points per-40 rankings. Rodrigue Beaubois checks in as our first international player at 7.5 per-full contest, which raises some concerns about his shot selection when you consider he only shot 31.7% from deep. The difference in Ricky Rubio's attempts in the Euroleague and the ACB tells you how much of a difference a few months of rehab can make. We also find Jonny Flynn and Ty Lawson sitting near the bottom of this list, unsurprising for two guys who handle the ball a great deal, play on good teams with considerably talented wings, and aren't considered great shooters.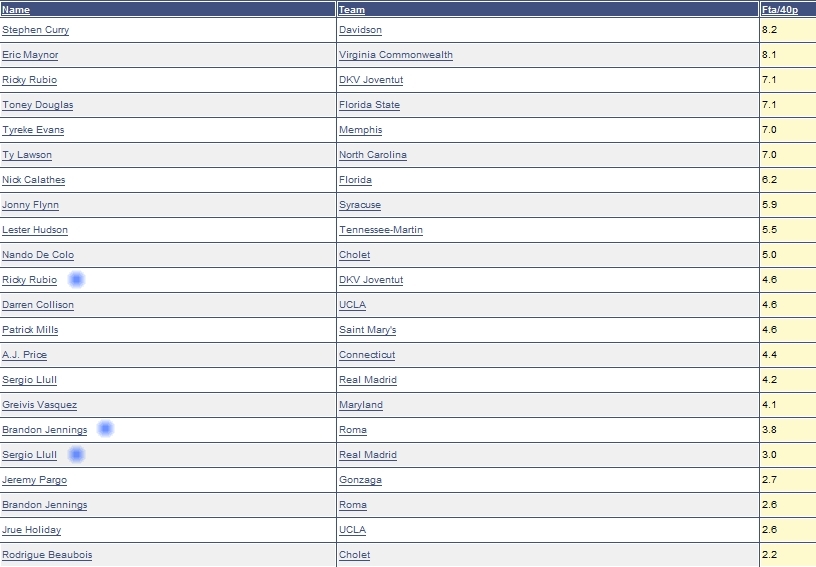 Free throws attempted per-40 minutes is a good statistic to measure the aggressiveness of a player getting to the rim, as well as his athleticism and ball-handling skills.

Stephen Curry and Eric Maynor top our list by a full attempt, indicating just how savvy the pair are when they put the ball on the floor to attack the paint. Though neither player is a great athlete, they certainly compensate effectively. Ricky Rubio falls into the same boat at third, while Tyreke Evans and Ty Lawson use their impressive physical tools to tie for fifth at 7.0 attempts per-40.

Brandon Jennings, in contrast, posted only 2.6 attempts, a highly questionable average for a player with his quickness. Jrue Holiday also falls rather low on our list at 2.6, which is indication of his struggles to beat players off the dribble at the UCLA. He did beat Rodrigue Beaubois's 2.2 soundly, which is a bit discouraging considering how athletic Beaubois is, and how little he seemingly used that.

Nick Calathes isn't deemed to be the quickest or strongest guy in the world, but he still managed to get to the line at a very nice rate, which is impressive. The same can be said for his European counterpart Nando De Colo.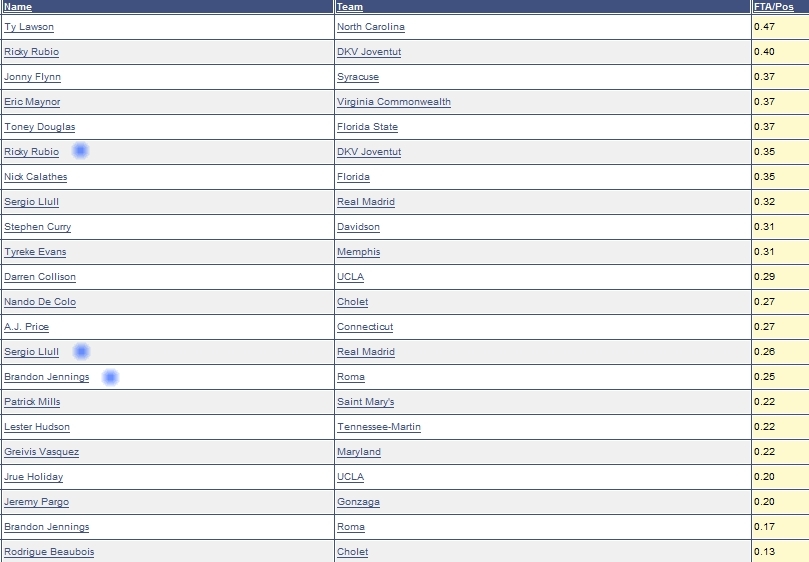 Even though Free Throws Per-40 Minutes Pace Adjusted tells us how much a player attacks in bulk, it doesn't show how much they attack relative to their usage rate. This stat tells that story.

Ty Lawson got to the line on a per possession basis significantly more frequently than anyone on our list at .47 FTA per possession. Ricky Rubio followed him in second at .40 with Jonny Flynn, Eric Maynor, and Toney Douglas not too far behind at .37 attempts on average. Ricky Rubio's injured Euroleague play earned him a top-10 spot, which tells you how well he effortless he draws contact in the paint.

On the downside, Brandon Jennings, Jeremy Pargo, and Jrue Holiday didn't get to the line much, nor did Patrick Mills or Lester Hudson. Obviously these guys are taking a lot more jumpers than their counterparts near the top of the list.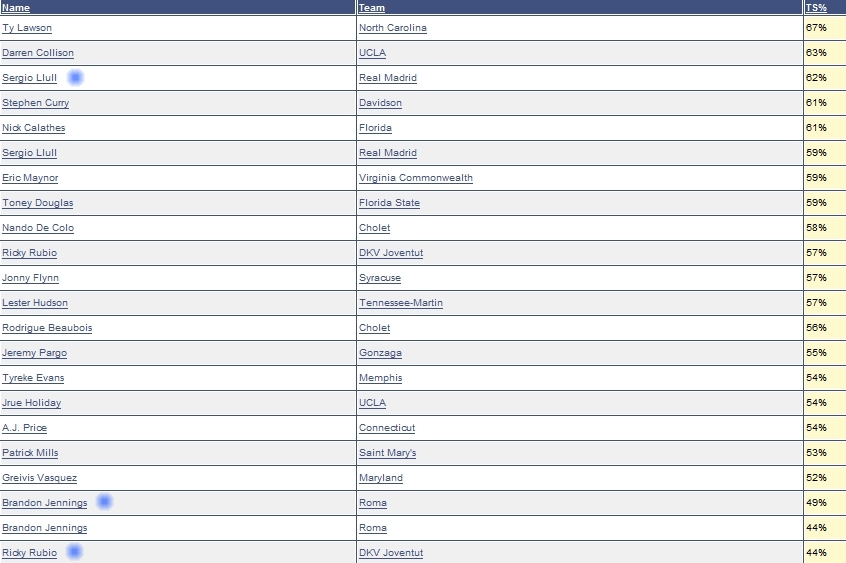 True Shooting Percentage is adjusted to account for what a player adds to their efficiency and team's point total with free throw attempts and 3-pointers. A player who makes 4/10 3-pointers obviously contributes the same amount of points as a player who made 6/10 2-pointers--which doesn't show up in the traditional field goal percentage stat. This stat attempts to adjust for that.

Ty Lawson has the top mark at 67%, an extremely impressive mark which shows just how efficient an all-around player he was for North Carolina.

He was followed by another battle tested guard in Darren Collison, known for his terrific shot-selection and mistake-free style of play. Sergio Llull posts a high mark at 62% in Euroleague play, further indicating his high skill-level, especially when considering the extremely tough level of competition he played in.

The bottom of the list features players who have often been criticized for their decision making skills--Greivis Vasquez, Patrick Mills, and Brandon Jennings. Jrue Holiday and Tyreke Evans also rank on the low-side here.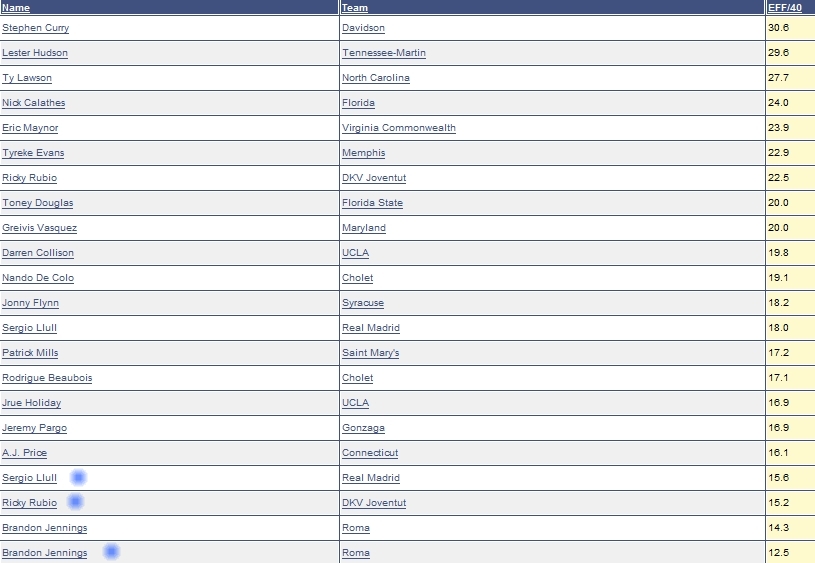 In conclusion.
Jennings is trash.
Lawson, Rubio are quality.
Maynor is underrated also.
Last edited: