http://sbn.to/MMOIuG


9/20/2000: Knicks acquire Luc Longley, Glen Rice, Travis Knight, Vernon Maxwell, Vladimir Stepania, Lazaro Borrell, a 2001 first-rounder (Jamaal Tinsley), two 2001 second-rounders (Michael Wright and Eric Chenowith, and a 2002 first-rounder (Kareem Rush) in exchange for Patrick Ewing, Chris Dudley, and a 2001 first-rounder (Jason Collins).



1/30/2001: Knicks acquire Othella Harrington in exchange for Erick Strickland, a 2001 first-rounder (Jamaal Tinsley), and a 2001 second-rounder (Antonis Fotsis)

2/22/2001: Knicks acquire Mark Jackson and Muggsy Bogues in exchange for Chris Childs and a 2002 first-rounder (Kareem Rush). I remember exactly where I was when this happened, and I'm pretty sure I remember SportsCenter mistakenly saying it was MARC Jackson the first time it ran through the ticker.

8/10/2001: Knicks acquire Shandon Anderson and Howard Eisley in exchange for Glen Rice, Muggsy Bogues, and "future considerations" which have evidently yet to be fulfilled...

6/26/2002: Knicks acquire Antonio McDyess, the rights to Frank Williams, and a 2003 second-rounder (****ing Maciej Lampe) in exchange for

Marcus Camby, Mark Jackson

, and the rights to Nene, back when he was still Maybner Hilario. THIS WAS NOT THE BEST TRADE EVER.

7/23/2003: Knicks acquire Keith Van Horn in exchange for Latrell Sprewell (part of a four-team deal)



12/30/2003: Knicks acquire Moochie Norris and John Amaechi in exchange for Clarence Weatherspoon.

1/5/2004: Knicks acquire Stephon Marbury, Penny Hardaway, and Cezary Trybanski in exchange for Antonio McDyess, Howard Eisley, Maciej Lampe, Charlie Ward, the rights to Milos Vujanic, a 2004 first-rounder (Kirk Snyder) and a heavily protected first-rounder that eventually became Gordon Hayward in 2010. Oh, and $3 million.

2/15/2004: Knicks acquire Tim Thomas and Nazr Mohammed in exchange for Keith Van Horn, Michael Doleac, and a 2005 second-rounder (Ronny Turiaf!).

8/5/2004: Knicks acquire Jamal Crawford and Jerome Williams in exchange for Othella Harrington, Frank Williams, Dikembe Mutombo, and Cezary Trybanski. (This is one of those where it's important to remember that Crawford was signed-and-traded. (Seven years, $56 million, y'all).)



10/4/2004: Knicks sign Mengke Bateer. Not a trade, but still the best.

2/24/2005: Knicks acquire Malik Rose, a 2005 first-rounder (David Lee), a 2006 first-rounder (Mardy Collins), and cash in exchange for Nazr Mohammed and Jamison Brewer.

2/24/2005: Knicks acquire Maurice Taylor in exchange for Moochie Norris, Vin Baker, and a 2006 second-rounder (Steve Novak!).

6/28/2005: Knicks acquire Quentin Richardson and the rights to Nate Robinson in exchange for Kurt Thomas and the rights to Dijon Thompson.

10/4/2005: Knicks acquire Eddy Curry, Antonio Davis, and the right to swap 2007 first-rounders with the Bulls (ended up being Wilson Chandler) in exchange for Tim Thomas, Mike Sweetney, Jermaine Jackson, pick swaps in 2006 and 2007 that ended up being LaMarcus Aldridge and Joakim Noah, a 2007 second-rounder (Kyrylo Fesenko), and a 2009 second-rounder (Jon Brockman). Guhhh.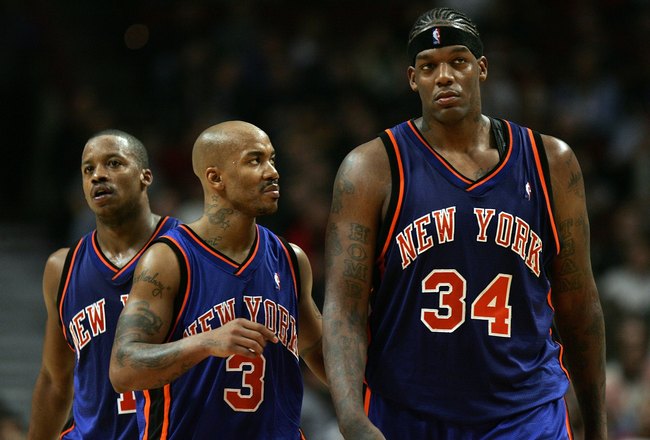 2/3/2006: Knicks acquire Jalen Rose and a 2006 first-rounder (Renaldo Balkman!) for Antonio Davis. (Recall that Rose was due like $30 million between '06 and '07.

2/22/2006: Knicks acquire Steve Francis in exchange for Trevor Ariza and Penny Hardaway

6/28/2007: Knicks acquire Zach Randolph, Fred Jones, Dan Dickau, and the rights to Demetris Nichols in exchange for Steve Francis, Channing Frye, and a 2008 second-rounder (Omer Asik).

7/28/2007: Knicks acquire Taurean Green, Bobby Jones, and a 2010 second-rounder (Andy Rautins) in exchange for Renaldo Balkman.

11/21/2008: Knicks acquire Al Harrington in exchange for Jamal Crawford.

11/21/2008: Knicks acquire Tim Thomas and Cuttino Mobley in exchange for Zach Randolph and Mardy Collins. That was a weird day.

2/19/2009: Knicks acquire Larry Hughes in exchange for Tim Thomas, Jerome James, and Anthony Roberson.

2/19/2009: Knicks acquire Chris Wilcox in exchange for Malik Rose and cash considerations. That was a weird day, too.

6/25/2009: Knicks acquire Darko Milicic in exchange for Quentin Richardson and cash.

2/17/2008: Knicks acquire Brian Cardinal in exchange for Darko Milicic and cash.

2/18/2010: Knicks acquire Eddie House, J.R. Giddens, Bill Walker, and a top-55 protected 2014 second-rounder in exchange for Nate Robinson and Marcus Landry.



2/18/2010: Knicks acquire Tracy McGrady and Sergio Rodriguez in exchange for Jordan Hill, Jared Jeffries, and a heavily conditional pick that eventually became Royce White this year.

7/9/2010: Knicks acquire Ronny Turiaf, Kelenna Azubuike, and Anthony Randolph in exchange for David Lee. (That seemed like an amazing sign-and-trade at the time, didn't it? Still better than letting Lee walk for free.)

2/22/2011: Knicks acquire Carmelo Anthony, Chauncey Billups, Renaldo Balkman, Anthony Carter, Shelden Williams, and Corey Brewer in exchange for Danilo Gallinari, Wilson Chandler, Raymond Felton, Timofey Mozgov, and every pick ever.

7/11/2012: Knicks acquire Marcus Camby in exchange for Toney Douglas, Jerome Jordan, Josh Harrellson, a 2014 second-rounder, and a 2015 second-rounder.

7/15/2012: Knicks acquire Raymond Felton and Kurt Thomas in exchange for Jared Jeffries, Dan Gadzuric, the rights to Kostas Papanikolaou, the rights to Giorgios Printezis, a 2016 second-rounder, and cash considerations.