Last season, Amare Stoudemire was arguably the biggest missing piece for the Knicks, even though he was with the team all season. Most of the time, it was Carmelo Anthony living on his own star island.

Stoudemire entered training camp not in top shape, dealt with his older brother's death in February and, a month later, suffered a bulging disk in his lower back. It all led to him only averaging 17.5 points and 7.9 rebounds per game on 48.3 percent shooting -- his lowest output since 2005-06, when he played just three games because of knee surgery.



That's why Stoudemire's uniquely productive offseason could likely be the key to the Knicks' success this season. Every competitive team needs a second legitimate star, and the signs this summer are pointing to a STAT revival.

Not only will he be entering training camp a month from now healthy, lower back included (thanks to regular two-a-day workouts),

he'll also be bringing new post-up moves and defensive abilities with him.



Offensively, that should enable Stoudemire to play better with Anthony because spacing ideally will be less cramped and there will be more room for fluid ball movement. On the defensive end, he shouldn't have to make Tyson Chandler and Marcus Camby work for every stop down low.



Due in large part to training with Hakeem Olajuwon for the past two weeks in Houston, Stoudemire said he has improved on both ends of the court. He said his motivation was to not only become a more complete player, but to also give the Knicks a better chance to win a championship.

"I'm looking forward to showing my opponents my moves that I've been working with Hakeem," Stoudemire said Monday afternoon before a signing for his debut children's book, "STAT: Home Court," at Citigroup Barnes & Noble in New York City.

"There are so many moves that I picked up from Hakeem. I mean, just developing my post game has been phenomenal for me. When I came out of high school, I was just thrown the ball and they said, 'Do what you do best.' I never got a chance to develop my game, as far as a post player. So now, with working with Hakeem, it's going to be a great advantage for me."



When the season ended with a first-round exit to the Heat, Mike Woodson envisioned offensive sets that highlighted a premier post player, and that was Stoudemire. At times, Anthony will be in that situation as well, based on his success at the four late last season when Stoudemire was sidelined due to injury.

"Coach Woodson's style of play is an inside-out game," Stoudemire said. "So it was important for him to develop me as a post player, and I was willing and ready."

But Stoudemire stressed that he won't just be stationed on the block; rather, it's an added tool for Woodson to use to give his power forward -- and Anthony -- more shot opportunities. While many observers have pointed to Stoudemire and Anthony having difficulties playing together, STAT said it's because his time with Melo has been limited and not consistent after the midseason trade in 2011 and the coaching change last season. But now, Stoudemire said Woodson's puting the right system in place.

"I think what he's doing is making sure that we take advantage of our talents," he said. "Carmelo and I have been (among) the top players in the league for 10 years now. I think he's figuring out a way to make that happen."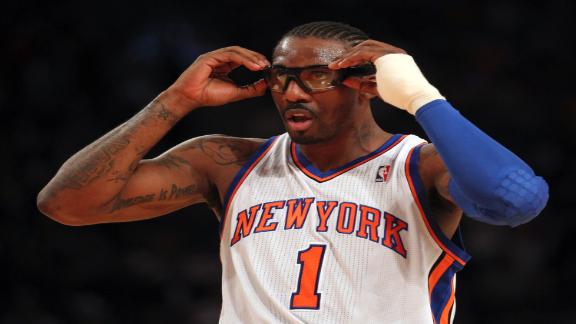 Stoudemire represents a major benefit of the Knicks' lineup this season. They have three key D's: depth, defense and dynamic lineups. Not only will Stoudemire have a refined back-to-the-basket game, but he'll also be able to employ his skills as one of the league's best pick-and-rollers.

"(Playing the post) won't be my main role," he said. "Again, it's about just being a basketball player. And Hakeem Olajuwon wasn't always a back-to-the-basket player. He was one of those players where he played the center position, but he was very versatile, outside-inside. For me, it's just another threat, another area on the court that I can work on and try to perfect."

During his time in Houston, Stoudemire concentrated a lot on learning Olajuwon's footwork, which was some of the most unconventional in NBA history. That corresponded to his famous "Dream Shake" moves, and Stoudemire believes he has similar athletic gifts to master them.

"It's great that I've been able to be so successful without having these points from Hakeem," he said. "And now that I have this extra skill, it's going to elevate my game that much even more. Also, having a post game is going to be that much more of an advantage with my quickness and size, and my skill set as far as being able to finish around the basket with my left hand and right hand, shoot the jumper. It creates havoc for the opponent, and to have so many moves in the post, it's going to be another advantage for me."



Stoudemire also wanted to pick Olajuwon's brain about shot blocking -- one of the Hall of Famer's specialties during his 18-year career. Stoudemire has been motivated to fulfill Woodson's defensive-minded ways, and he especially has to this season and beyond. Even if the Knicks manage to beat the Heat, they'll likely have to get by the Lakers' Pau Gasol and Dwight Howard or the Thunder's Serge Ibaka and Kendrick Perkins in the West.

After all, it was defense that pushed the Pistons in 2004, with Woodson as an assistant coach, to upset the Lakers, who featured Karl Malone and Shaquille O'Neal down low.



"Defense is always the key to win championships, and that's something that I'm dedicated on also, to become a much, much better defensive player," Stoudemire said. "And it's going to happen. It's just a matter of preparation and practice, and just getting that chemistry down on that end of the court."



Stoudemire said there were other things he took away from "The Dream," but he won't reveal what those are.

"I learned a lot more," he said, "but a few jewels that he gave me, I'm going to keep to myself."

Perhaps those are the same things the Lakers or Thunder will learn the hard way.