Administrator
Staff member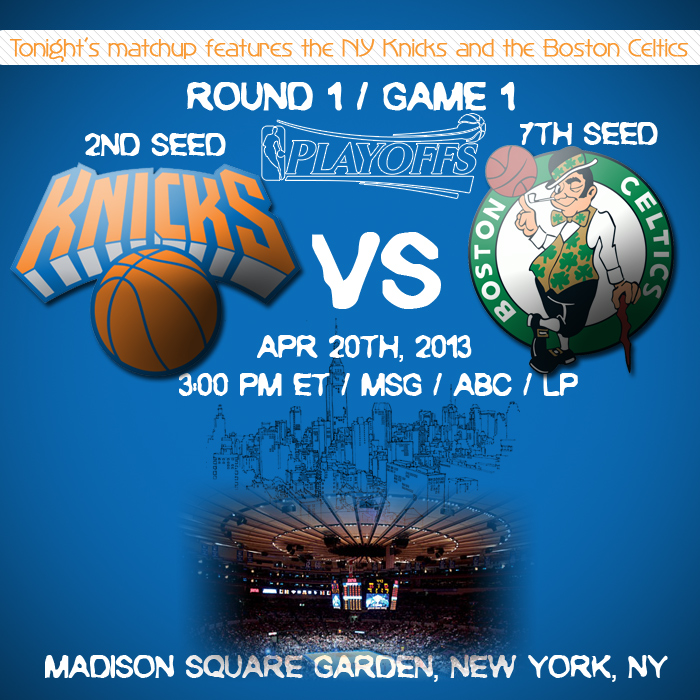 Hello and welcome to the 2013 NBA Playoffs Game 1 between our New York Knicks and the Boston Celtics!

The last time New York won a playoff series was so long ago that none of the players that started (Ward, Houston, Sprewell, Johnson, Ewing) are still active today in the NBA.
It was however one of the most memorable moments with the Knicks upsetting the Heat for the 3rd straight time in a playoff series, in Miami!

(Photo by Linda Cataffo/NY Daily News Archive via Getty Images)

The last time New York faced the Celtics in a playoff series was 2 years ago. Needless to say, the 6th seed Knicks got swept in a controversial series that only brought more hate on the green!
​
(Photo by Nick Laham/Getty Images)


The most awaited game of the season comes after one of the best months New York is going through:
​
- Melo is the regular season scoring leader with 28.7 PPG
- Cope has been named rookie of the month
- Woody has been named NBA coach of the month
- The Knicks are 8-2 in April but they also closed the regular season with a 16-2 record
- Earl Barron is back in Manhattan!

​
New York went 3-1 in the regular season against Boston and a loss in game 1 would be hard to swallow.
Former Knick, Antonio Davis at ESPN previews the series:
Also, a random fact to get you pumped / the Knicks motivated for the game:
40 years ago on this day, our last championship year, New York defeated Boston 98-91 to take a 2-1 lead in the Eastern Conference Finals!
Starting lineups:
NYK:
BOS:
LET'S GO NEW YORK!
​