Chicago Bulls At New York Knicks MSG Broadcast Recap
Updated: December 2, 2021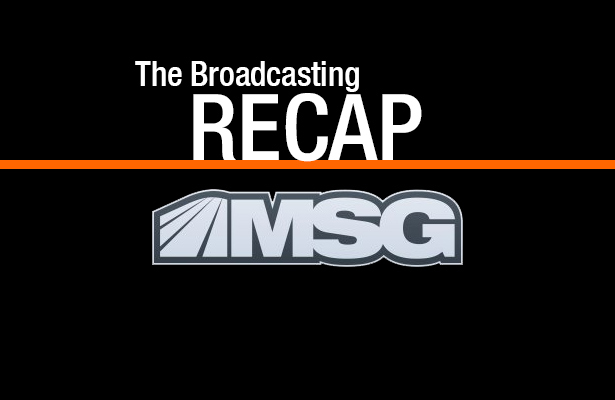 Wondering what else happened before, during, and after the Knick games, that's not just about, the game? I recap with you various interesting, fun, and weird things that have gone on during all the Knick broadcasts including the ones on MSG Network, TNT, ESPN, and ABC.
 Chicago Bulls At New York Knicks MSG Broadcast Recap – 12/2/2021

Cadillac Trivia Question 
Tom Thibodeau Coached The Bulls From 2010-15.
Who Played The Most Games For The Bulls
Under Thibodeau?
Notable Commentary By Clyde And Breen
After a week off Clyde's back!
Before the game Rebecca Haarlow asked Julius Randle if he plans on selling fouls when he gets hit after expressing his frustration after the previous game against the Nets about not getting calls because of his strength. Randle said it's not in his nature to sell and flop. Randle also stated he's going to move on from this officiating stuff.
A lot of the first quarter the officiating situation with Randle was talked about by Clyde and Breen. Taj Gibson was teched up twice in a matter of seconds and was thrown out which Breen thought was horrible officiating.
Walt Frazier said when he was in school growing up his coach always told him not to talk to the officials. Breen asked him how he'd react to them when he'd get a bad call go against him. Clyde answered saying he'd put his hands on his hips and give them a look like ,"you that stupid?"
Alec Burks crashed into the cameraman. Both were ok. Frazier said everybody wants to have courtside seats, but they need insurance. Mike Breen was praising their camera crew as the best then Frazier eventually asked, "what about our commentators?"
Clips of Derrick Rose's first game at Madison Square Garden as a rookie was shown and Breen or Clyde said fans back then were dreaming about him being in a Knick uniform. Before the game Rebecca Haarlow showed Rose those clips and Rose said, "that's dope".
Mike Breen was naming the Celebrity Row in attendance tonight while they were being shown including Andrew Lincoln from The Walking Dead (as main character Rick Grimes). Frazier said that's a good segue, The Walking Dead, "that was the Knicks in the first half".
MSG 150 – Fast Notes
Wizards/Timberwolves – Clips of all ten of Montrezl Harrel's dunks were shown. Wizards won the game.
Mavericks/Pelicans – Last night Luka Doncic had his 100th career double-double in a win against New Orleans.
MSG's "Move Of The Game"
DeMar DeRozan with a mesmerizing spin move then calmly took his time for a lay-up.
MSG's "Unbelievable Play"
DeRozan with a drive and a nice finish off the glass near the end of the 4th.
Cadillac Trivia Question 
Tom Thibodeau Coached The Bulls From 2010-15.
Who Played The Most Games For The Bulls
Under Thibodeau?
Answer: Taj Gibson: 352 Games
That wraps it up for the New York Knicks MSG Broadcast Recap! Be sure to check out the recap of the Knicks/Bulls game by the captain of the Knicks Online ship, rady.