Cleveland Cavaliers At New York Knicks MSG Broadcast Recap – 11/7/2021
Updated: November 8, 2021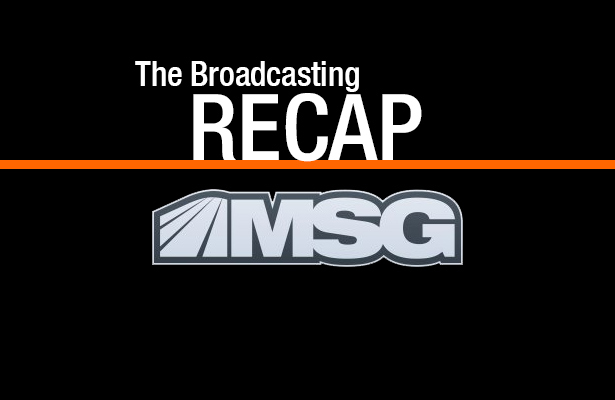 Wondering what else happened before, during, and after the Knick games, that's not just about, the game? I recap with you various interesting, fun, and weird things that have gone on during all the Knick broadcasts including the ones on MSG Network, TNT, ESPN, and ABC.
Cleveland Cavaliers At New York Knicks MSG Broadcast Recap – 11/7/2021
Cadillac Trivia Question 
What Number Did Walt Frazier Wear
As A Cleveland Cavalier?
Notable Commentary By Clyde And Mike Breen
Mike Breen said Rose, who got the start in this game with Kemba out, stated he doesn't care whether he starts or comes off the bench, whatever Thibodeau wants.
Rebecca Haarlow interviewed John Calipari. John said that the players (NBA players, Kentucky Wildcats? Maybe I missed something) voted Derrick Rose having the best floater in the NBA and also siad he's a great player and a great person.
Breen said Derrick Rose has the best +/- in the NBA.
Footage of Walt Frazier playing as a Cavalier on October 25th, 1977 against the Knicks was shown. This was his first game in the Garden since he was traded to Cleveland, only seventeen days after the trade. Clyde said he was ill-prepared for it because of how soon it was after the move. Frazier scored 28 points, grabbed 8 rebounds, got 5 steals, and had 4 assists in a Cleveland win.
Frazier said Immanuel Quickley plays the drums and saxaphone, probably learning it because his father is a minister.
MSG 150 – Fast Notes
Nets/Raptors – Pascal Siakam returned for his first game of the season. Said he was out of breath within three minutes. He played 25 minutes and scored 15 for the game. Nets win.
Sixers/Bulls – Joel Embiid accidentally punched and grazed Ball's hair. In the locker room after the game the Sixers celebrated Doc Rivers' 1,000th career win by dumping water over Doc and rallying around him.
Mavs/Boston – Kristaps Porzingis returned last night after five games with a back injury and scored 21 points. Dallas and Boston were tied at 104 and Doncic made the game winning three at the buzzer, scoring 33 for the game.
Cadillac Trivia Question
What Number Did Walt Frazier Wear
As A Cleveland Cavalier?
Answer: Number 11 (1977-79)
MSG's Amazing Moment Of The Game
Ricky Rubio drives past Quickley dribbling with his right hand and finishing the lay-up with his left
That wraps it up for the New York Knicks MSG Broadcast Recap! Be sure to check out the recap of the Cavaliers/Knicks game by the captain of the Knicks Online ship, rady.