Knicks blow a 17 point lead but Anthony comes to rescue with game winning shot
The Knicks have been in the same situation when they played the Sixers in Philadelphia last month. Led almost throughout the entire game, blow a double-digit lead in the final minutes, lose control and game.
The scenario was similar last night. The Knicks led by as many as 17 in the third quarter and kept a double-digit advantage with less than 5 minutes left to play.
It was the moment when the Sixers went on a 9-0 run to close the gap at just 3 points. With pressure on their shoulders, the Knicks seemed unable to respond.
Carmelo Anthony missed a dunk over Jahlil Okafor, Kyle O'Quinn missed a free throw and with 9 seconds left to play, Okafor put the Sixers up by one for the first time since the first quarter.
It seemed like the game was going to be decided again by the last shot. But this time, he wasn't going to miss. Anthony got the ball, drove against Robert Covington, took a step back, then launched a fade away jumper along the baseline with 0.3 remaining to help New York win 110-109.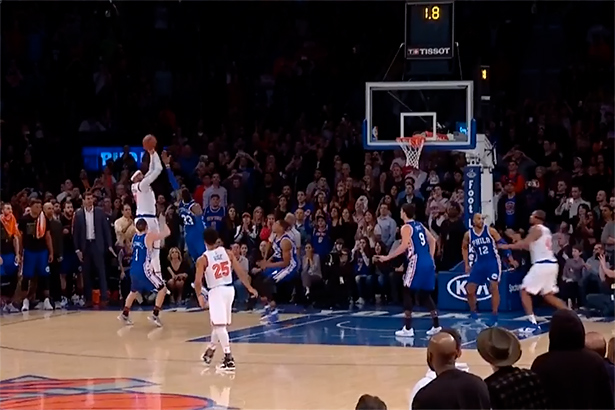 "This is like the exact repeat of the last game. I'm glad it wasn't a repeat."

– Jeff Hornacek
With Joakim Noah sidelined, the Knicks also played without Kristaps Porzingis who suffered an ankle injury against the Cavaliers a couple of nights ago.
Lance Thomas started at the power forward and finished with 11 points and 6 rebounds while Willy Hernangomez, who became Hornacek's choice at the center, was one rebound away from finishing in double-double, nailing 11 buckets.
The man of the night, Carmelo Anthony, dropped a game high 37 points in the same amount of minutes spent on the floor and collected six rebounds. Melo shot 15-25 from the field and scored 17 in the first half.
Derrick Rose finished with 18 points and Justin Holiday led the bench with 14 buckets and 7 boards.
For the other side, Sixers had three starters finishing in double doubles. Okafor had 28 points and 10 rebounds Covington had 20 and 10 while Dario Saric had 19 buckets and a game high 15 boards.
The Knicks (24-35) improve at over .400 after falling for the first time under in the loss to the Cavaliers.