Orlando Magic At New York Knicks MSG Broadcast Recap
Updated: November 17, 2021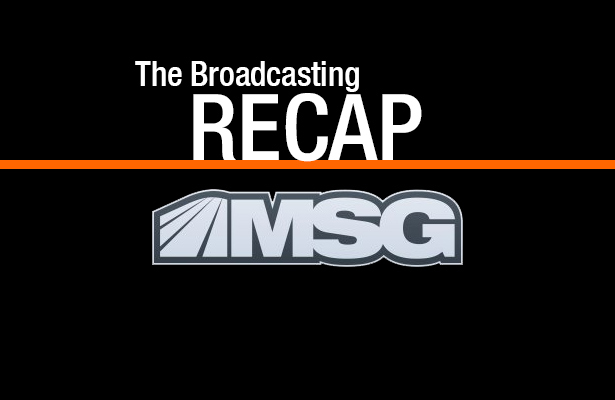 Wondering what else happened before, during, and after the Knick games, that's not just about, the game? I recap with you various interesting, fun, and weird things that have gone on during all the Knick broadcasts including the ones on MSG Network, TNT, ESPN, and ABC.
Orlando Magic At New York Knicks MSG Broadcast Recap – 11/17/2021
Knicks MSG Studio Crew Talk
– The half-time starts off with Pidto talking about those "pesky Orlando Magic". I was hoping he was talking about their boring uniform and logo, but he was talking about them fighting back and taking the lead despite having a bad record.
– The usual crew was in the studio except Alan Hahn.
– In the post-game Wally Szczerbiak said Alec Burks is turning into the closer for the Knicks.
– Since Alan Hahn wasn't in the MSG studio tonight we got a Monica McNutt edition of the Wally Wall. Obi's impressive catch from Quickley with his left-hand into a lay-up was shown which Wally compared to George Gervin's plays and also Shaq's hands.
Cadillac Trivia Question 
What Former Knick Has The 2nd Most Points Among
NBA Players That Attended A New York High School?
(1st – Kareem Abdul-Jabbar – Power Memorial HS)
Notable Commentary By Clyde And Breen
Clyde and Breen talked about Mitchell Robinson's shoe size problem, trying to find the right size to feel comfortable, who had foot and ankle injuries. Frazier said they need to get him a pair of Pumas.
Rebecca Haarlow interviewed J.B. Smoove and he announced he is coming back to MSG Networks with a new version of his show Four Courses various guests.
Shortly after Breen mentioned what's coming up at half-time including Bill Pidto rolling up his sleeves for the MSG 150, Frazier started singing his new hit, "Piiiiidtoooo, Bill Piiidtoooo".
After talking about the answer to the MSG Trivia Question, Frazier asked what happened to all the native New York players because they used to produce the most NBA players. Breen then said there's a few in this game including Cole Anthony and Kemba Walker. He also mentioned players going to prep-schools these days. Frazier said, "they have a little more money now".
Mike Breen said this is only the third time this season that the Magic went into the fourth quarter with the lead.
MSG 150 – Fast Notes
Wizards/Hornets – Daniel Gafford poster on Nick Richards
Pelicans/Heat – The Heat having a City Edition night. I like their City Edition court. Tyler Herro intended a half-court ally-oop to Jimmy Butler, but instead the ball went into the hoop for a three.
Lakers/Milwaukee – Kris Middleton returned to this game. LeBron could be back Friday for the struggling Lakers.
Nets/Warriors – Stephen Curry with nine threes and 37 points from last night's game in Brooklyn
Spurs/Clippers – Clippers won against San Antonio and won eight of their last nine.
Nets/Cavs – Tacko Fall, 7'6, is shown with the ball near the basket being covered by Patti Mills. Bill Pidto said this is like him working with Wally, Alan, Monica. "Patti Mills has got no chance."
Boston/Atlanta – Trae Young bounce pass between Al Horford's legs to John Collin's for the lay-up.
Westchester Knicks/Long Island Knicks – Miles McBride was assigned to the G-League's Westchester Knicks and had 25 points, 9 assists, and 5 rebounds.
MSG's "Unbelievable Play" Of The Game
Frankz Wagner with a drive on Quickley and finishing with a two-handed jam.
Cadillac Trivia Question
What Former Knick Has The 2nd Most Points Among
NBA Players That Attended A New York High School?
(1st – Kareem Abdul-Jabbar – Power Memorial HS)
Answer: Bernard King – Fort Hamilton High School – Brooklyn, NY
That wraps it up for the
New York Knicks MSG Broadcast Recap
! Be sure to check out the recap of the Knicks/Magic game by the captain of the Knicks Online ship, rady.