Phoenix Suns At New York Knicks MSG Broadcast Recap
Updated: November 26, 2021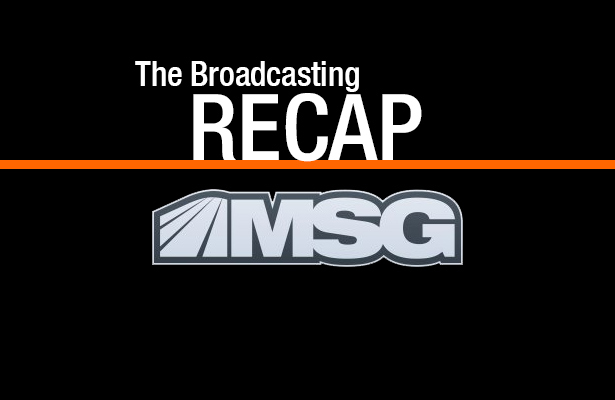 Wondering what else happened before, during, and after the Knick games, that's not just about, the game? I recap with you various interesting, fun, and weird things that have gone on during all the Knick broadcasts including the ones on MSG Network, TNT, ESPN, and ABC.
Phoenix Suns At New York Knicks MSG Broadcast Recap – 11/26/2021
Friday Night Knicks

MSG Broadcast Music Of The Night – Foo Fighters' songs from their Grammy nominated rock album "Medicine At Midnight" was the featured music for this Friday Night Knicks.
Knicks MSG Studio Crew Talk
– Walt Frazier had the night off. Enjoy your Thanksgiving time off, Clyde!
– After the game Alan Hahn said Devin Booker, who's favorite place to play in is the Garden, said something interesting in the morning. The Phoenix Suns were on the road for Thanksgiving, and Booker skipped wine on Thanksgiving because he said that that's nothing compared to what his team wants to accomplish and they're going to do something special tonight.
– Since there was no Wally in the studio tonight Monica McNutt took over Wally's Wally Wall role and Alan said they're still trying to come up with a name for these special occasions.
Cadillac Trivia Question 
Chris Paul Has Led The NBA In Steals/Game 6 Times,
The Most In NBA History, Who Is the Only Knick
To Lead The NBA In Steals/Game?
Notable Commentary By Wally And Breen
After doing his usual announcing of what's coming up at half-time, including Bill & Monica's half-time report, Breen said Bill and Monica looked sad prepping for it without Wally. Wally then said he's in a good place, being right next to the GOAT. Wally or Breen also said Alan was running around somewhere.
Rebecca Haarlow brought up Phoenix Suns' head coach Monty Williams being picked 24th overall by the New York Knicks in the 1994 draft. Monty was then Monty was shown backstage from before the game talking about his experience with the Knicks. Although he didn't get much playing time, only appearing in 55 games, because there was a lot of talent on those teams, he said he learned a lot from his teammates and that they helped him mold him into a coach. He also said they're part of the reason why he's had longevity in this league.
Wally said he likes Quickley's new hair, and he noticed it on Tuesday. I noticed it then as well and didn't know it was him at first. Mike Breen no sold this topic proceeding to talk about something else, but Wally being the great man he is brought it up again asking Breen if he had no comments on his hair. Breen said he thinks he looks good with any hair as long as he's playing well.
MSG 150 – Fast Notes
FIBA mop artist ball boy was shown being back doing whacky athletic mopping during a FIBA game in Africa.
Magic/Bulls – Nikola Vucevic's first game back in Orlando since signing with the Bulls. He's shown acknowledging the Orlando fans for their appreciation.
Westchester Knicks/Long Island Nets – This past Tuesday's clips. Luka Samanic highlights were shown in a Westchester Knicks win.
MSG's "Move Of The Game"
Immanuel Quickley lead the fastbreak for an RJ Barrett 3.
MSG's "Unbelievable Play"
Mikal Bridges with a fastbreak dunk
Cadillac Trivia Question 
Chris Paul Has Led The NBA In Steals/Game 6 Times,
The Most In NBA History, Who Is the Only Knick
To Lead The NBA In Steals/Game?
Answer: Michael Ray Richardson Twice (1979-80 & 1982-83)
That wraps it up for the New York Knicks MSG Broadcast Recap! Be sure to check out the recap of the Knicks/Suns game by the captain of the Knicks Online ship, rady.