Tim Hardaway Jr's Injury & Its Effect on the Knicks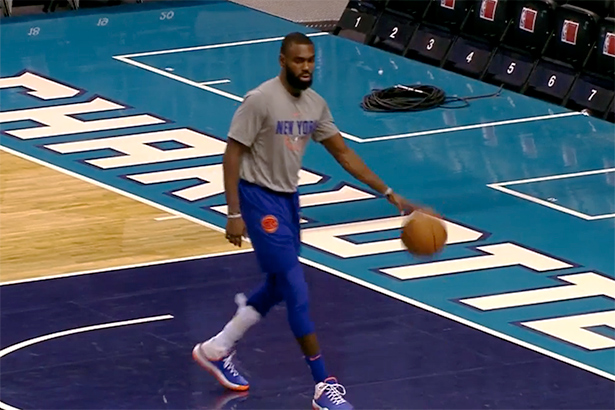 Capture / MSG
The Knicks have been on a bad luck string for quite some time, so issues regarding players come as no surprise for this team. Nonetheless, they have learned to measure their hurdles, and the current one is definitely hurting their gameplay. Having an injured player is a costly affair, regulars at sport.netbet.co.uk are bound to confirm, but the price is even higher when it comes to evaluating one of the most promising forwards of the decade.
Tim Hardaway Jr. is suffering from a specific medical condition in the lower part of his left leg, near the arch. He has been known to admit feeling strong physical pain on several occasions, but nothing was as serious as the last string of ailments that ultimately drove him out of the basketball court.
During his time on the bench, he has addressed the public several times, each time more hopeful than the one before. Still, the Knicks had to find a way to persevere and continue playing the games scheduled during Hardaway's 'leave of absence', so they turned to his partner, Kristaps Porzingis.
Porzingis was given the major part of court responsibilities, as the Knicks were hoping to find salvation in his moves on the court. What happened next, hurt the team the most – Porzingis suffered from severe pain in his ankle, and thus underwent scans and tests that took him off the court. Nevertheless, structural abnormalities to his bones were soon ruled out and he returned to the court just in time to prevent the total deterioration of the team.
Hardaway's injury has taken longer than expected, but recent announcements have made everyone more positive about his recuperation and reinstatement with the Knicks.
For now, he has sat through more than 18 games and played out his moves from the bench, but the Knicks believe that having him present on the court in any role is an added advantage for the team. This might turn out to be true in the end, as Porzingis is showing excellent results in most of the matchups, even though no one can deny his exhaustion.
Most recent progress reports have somewhat shifted the basketball experts' prognosis about the Knicks for the remaining part of the season. This is mainly due to the fact that Tim Hardaway Jr is seen throwing the ball during warm ups and training sessions, as well as publicly claiming his miraculous recuperation. According to such statements, he claims that having the brace on has helped him immensely, and has enabled him to do most static stuff to keep himself in shape.
The threat of a pending injury after rehabilitation is the most crucial concern of all, but it appears that Tim Hardaway Jr is putting in the effort despite the risk. There is no definite date set for his much needed comeback, but whenever it is, it is bound to bring back the old competitive spirit of the Knicks with it.