Who is the Point Guard of the Future?
Although New York City boasts the production of many talented, crafty point guards (such as Kemba Walker and Stephon Marbury), the New York Knicks roster has not featured a superstar or even All-Star point guard in recent memory.
Aside from a few exceptions in the top tier of small forwards, including LeBron James, Kevin Durant, Kawhi Leonard, and Giannis Antetokounmpo, the most talented position in today's NBA is the point guard.
Nearly every year, the Western Conference has a star point guard like Chris Paul or Damian Lillard, both top 25 players in the NBA, snubbed from the All-Star roster. Similarly, three candidates to replace injured players on the Eastern Conference All-Star roster were floor generals Goran Dragic, Kemba Walker, and Ben Simmons.
Considering that there is so much talent at the position, it is remarkable that the Knicks have had trouble filling out their roster with talented point guards.
Looking forward, as the Knicks look to rebuild the team, there are three point guards that are sharing minutes because their potential is still not proven; it is potential after all. However, they have all shown flashes while all being age 25 or younger.
Now, the front office must decide which of Frank Ntilikina, Emmanuel Mudiay, and Trey Burke to bet on. So, let's take a look at the potential point guards of the future for the Knicks and how likely they are to fulfill what New York needs.
Frank Ntilikina – the main option
Frank Ntilikina's potential is the most unsure of these three young men.
He was drafted as a point guard, but in his rookie year, he seems to be in between the point guard and shooting guard positions.
His 6'6 height and unbelievable 7'0 wingspan allow him to play as a combo guard for now. This length is also the reason that Ntilikina's biggest strength is his defense. He has already proven he can play phenomenal defense on some of the best guards in the league by holding Chris Paul and John Wall scoreless on a combined 24 possessions when they were matched up.
The combination of his visible length and proven skill lead me to believe he has the potential to be a top three defensive guard in the league. Ntilikina's offensive abilities are weaker largely due to his lack of a consistent jumper.
However, he seems to have the poise and skill to at least keep the defense honest, if not be an offensive weapon in the future. His struggles on the offensive side boil down to that he just isn't "Americanized" in his style of play, meaning that he does not have the same development of certain skills that are being taught to many young, American-born players. Specifically, in this notion, I notice that he is slow when handling the ball and is, therefore, not explosive when attacking the basket. This is the primary reason for his lack of playmaking ability.
He also does not have a satisfactory 3 point shot yet, but his mechanics appear sound and hard work could be huge dividends. As long as Frank continues to work hard and adapt to the NBA style of play, I can see him becoming a slightly above average starter (similar to current Reggie Jackson) that could help establish a defensive culture in New York.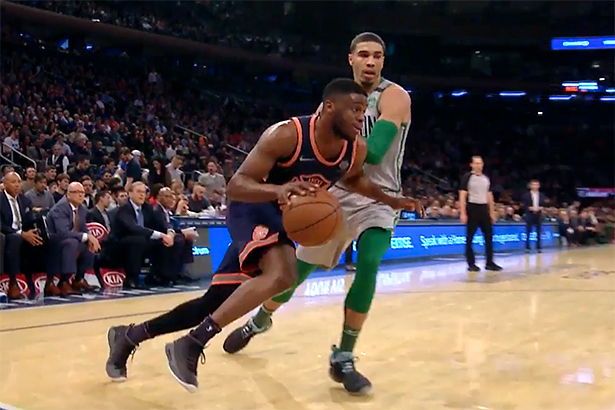 Emmanuel Mudiay – The backup
Considering that he was picked up in the first half of the 2015 draft lottery, Emmanuel Mudiay's career has been disappointing so far in that he hasn't made tremendous progress since his first season.
His greatest strength is that he is very quick, which gives his dribble-drive game potential. However, his jump shot is nowhere to be seen.
I believe that his lack of a jump shot will stop him from becoming a respectable scorer since the defense can simply sag off. Finally, it has been publicized correctly that Mudiay turns the ball over a disproportional amount.
This is common with young point guards, but this is Mudiay's third year and he is yet to cut his turnover numbers down, which is a red flag.
Although Mudiay is less athletic and an overall worse version, he is similar to a poor man's Russell Westbrook in his athleticism, large turnover count and lack of a jump shot. I would put him as the lowest potential because he is, in my opinion, the least productive and most limited.
Trey Burke – The surprise element
Because of Burke's prior play, I never would have expected him to be the most promising point guard on an NBA roster this season.
However, after his recent unsuccessful stint coming off the Wizards' bench, Burke has experienced a revival after signing with the Knicks in January after playing with its G-League affiliate in the first half of the season.
Burke's play in recent games has been the most impressive out of the three young candidates, but he is already 25 years old, while the others are 19 and 22.
As a viewer, I am forced to ask the question of where Frank Ntilikina will be compared to current Burke at the same age, 6 years from now.
Yet, there is still no denying that Burke has the talent to continue to put up sudden outbursts of potential as seen on March 26th against the Hornets, when he dropped a casual 42 points and 12 assists.
He is extremely athletic and uses change of direction extremely well.
Burke's 3-point shot is inconsistent, but when he is hot, then his explosiveness and ability to shoot from range can make him a handful.
Down the line, his game will be limited without a jumpshot, but shooting is teachable; Burke's current skillset is not.
I am reluctant to place him on a pedestal as New York's savior because he can score the ball sometimes, but I would like him to be the man until Ntilikina (hopefully) surpasses him with time.
***
Oh, and there is a secret 4th option to find our PG of the future: The 2018 NBA Draft.
Yes, after talking about three young point guards that already have a roster spot, I still would consider drafting another one because there are two talents that look very appealing.
The team is projected to pick either 8th or 9th in the draft, and both Collin Sexton and Trae Young are projected to be picked in the 6-11 range.
Picking another guard seems unnecessary when we have zero young wing assets with impressive potential, but this draft is stocked with centers and point guards while the only wings conceivable to draft are Mikal or Miles Bridges.
Not going too far in depth, I think the two floor generals mentioned have high ceilings.
Collin Sexton is already in New York's heart because of his 40 point performance at the Barclays Center. He is strong, athletic, and a flat out shot maker who will translate well into the NBA.
With Trae Young, the same athleticism is certainly not there, but he has shown that he can handle insane media attention like that in New York. He is a hit or miss prospect, and while his floor is Jimmer Fredette, his ceiling could be through the roof if he can put everything together at the next level.
I am still not fully committed to any one of our current players.
Because we lack a combination of offensive upside and youth in a single player, I lean towards drafting another point guard.
Both still might be available, and while I am overlooking guys like Mikal Bridges, I don't think drafting a SF just because we could use one for next season is smart for years to come.
The ceiling for our three current guys does not seem very high or certain as I believe that Mudiay is a 6th man at best, Trey can be no more than a starter for a playoff team, and Frank is a huge question mark.
So, the draft seems appealing, but the grass is always greener, and we could also accidentally clog up the young PG position. Either way, the Knick's front office has some decisions to make when it comes to the future of point guards in the Big Apple.