Beasley raises 23 but the Knicks fall 91-109 to Kaminsky, Hornets
The four game winning streak was cut last night after a hot night from Frank Kaminsky, who scored a game high 24 points to help the Hornets beat the Knicks, 109-91.
With Kristaps Porzingis remaining sidelined, Michael Beasley got another start. Last night he finished with a team-high 23 points and was one rebound away of a double double. However, unlike the previous game, he shot much worse, going just 9-20 and committed 4 turnovers. On the defensive side he was off, allowing Kaminsky to shoot the three ball at ease (4-6) and their forwards to drive past him uncontested.
After having a couple of good games without their two star players, the Knicks felt their absence in Charlotte. New York shot a disappointing 41% from the field and a terrible 16.7% from behind the arc. The Hornets on the other hand, were 45% from long distance and close to 50% from the field.
"You deal with (injuries). You deal with it. You step up and you figure it out. That's what the NBA season is all about. Nobody is going to feel sorry for us. It's a very unforgiving league. They're not going to feel sorry for us and we can't feel sorry for ourselves. That's not how we going to get this thing going. We're going to chalk this one up, come back and try to get this next one."

– Jarrett Jack
The Knicks trailed by 25 points since before halftime as their defense crashed completely and were unable to make a comeback.
Jarrett Jack  finished with 12 points and 7 assists while Enes Kanter scored 11 and collected just 3 rebounds. Courtney Lee was incredibly off, shooting an awful 1-8 from the field to finish with just a couple of points. Kyle O'Quinn and Frank Ntilikina added each 10 points off the bench.
For the Hornets, Dwight Howard finished in double double (11 points and 10 rebounds), Michael Kidd-Gilchrist was similar but with 15 points while Marvin Williams contributed with 12 buckets.
The Knicks droped 16-14 while the Hornets improved 11-19.
***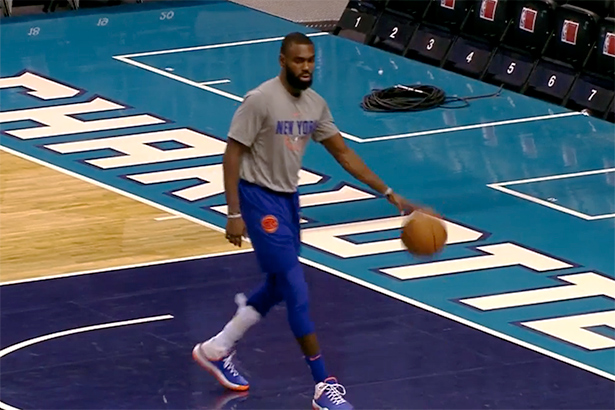 Tim Hardaway Jr practised prior to the game (MSG / Capture)
Tim Hardaway Jr., who missed his 9th game since his stress injury, will undergo tests on his left leg and will find out soon when will he be able to return.
"However they go — the testing, X-Ray, I'm not going to get too high or low. If I get too high, I'll get discouraged. It's something I don't want to hear, I'll be upset. It's whatever the doctors tell me tomorrow, I'm 100 percent all in and move forward with it."