Michael Beasley pours 30 to spoil Melo's return as the Knicks defeat Thunder 96-111
For the Knicks, this was the most expected game of the season. Carmelo Anthony would play hist first game at Madison Square Garden since he got traded to Oklahoma City.
Melo got a standing ovation at the player introduction while the Knicks put up a tribute video of him.
But once the game started, it was clear for everyone that he was a member of the other team.
With Kristaps Porzingis sidelined with a sore left knee, coach Jeff Hornacek turned to Michael Beasley. And B-Easy tookover the Garden and started his own show. He tied a season high 30 points while shooting 11-18 from the field, collected 5 rebounds and dished 4 assists, to help the Knicks take revenge for the season opener, and beat the Thunder 111-96.
"I didn't have to force any shots, take any tough shots. We're just swinging the ball the right way. Making the right passes on offense. Playing the game the right way. A real wholesome game, a fast-paced game, which coach likes. Getting stops and that translates to the offensive side."

– Michael Beasley
But he wasn't the only guy who stepped up. Ron Baker had another strong performance with 11 points while shooting 3-4 from behind the arc and had a powerful performance on the defensive side. Jarrett Jack had big numbers himself, with 11 buckets, 8 boards and 7 dimes. Veteran guard Courtney Lee dropped 20 while Doug McDermott nailed 3 three pointers and finished with 13 points off the bench.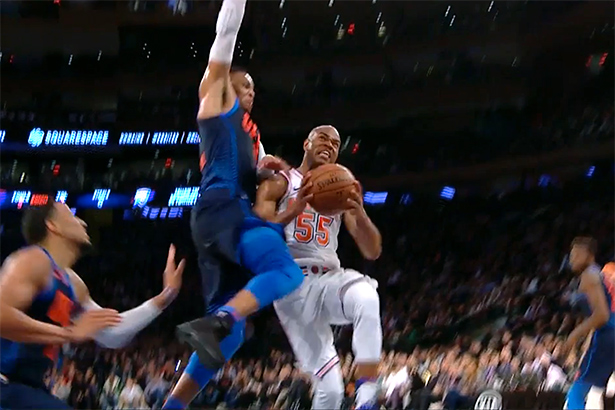 Jarrett Jack had 18 pts, 8 reb and 7 ast / MSG Capture
The game was close up until the final minutes and had 9 lead changes in the first half. The Knicks took control of it in the second half and from that moment, the Thunder never went ahead.
Anthony scored 7 points in the first quarter, 5 in the second, then went quiet for the rest of the night while shooting just 5-18 from the field. With Steve Adams out, Billy Donovan started with Dakari Johnson as their center piece. Donovan didn't do much, scoring just one but a more effective player was  Patrick Patterson who shot all of his 12 points from long distance. Russell Westbrook combined 25 points, 7 boards and 7 assists, while Paul George scored 18 points and grabbed 9 rebounds.
Statistically speaking, the Knicks moved the ball better and shot excellent. The three ball went in incredibly well as New York made over 60% from down town (14-23) as opposed to the 44.4% made by OKC (12-20).
With this win the Knicks improved 16-13 while the Thunder fell under .500 with 14-15.