Enes Kanter returns as the Knicks snap a three game losing streak with a 86-115 win over the Heat
After missing three straight games, which the Knicks lost all, Enes Kanter returned to the starting lineup. And his return was so impressive that it didn't even mattered that Kristaps Porzingis had to leave with an ankle injury.
Kanter posted 18 points and 13 rebounds of his total 22 and 14 in the first half as he helped the Knicks crushing the Heat 86-115 and remain a winning team. With Heat center, Hassan Whiteside missing due to a knee injury, Kanter razzled and dazzled with Miami's defense, shooting 7-9 from the field.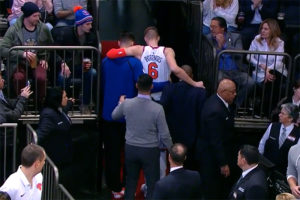 A horrific moment happened after just 2 and a half minutes of playtime, when, while trying to rebound a lose ball, Porzingis was stepped on his ankle by Justise Winslow. The replay looked awful, KP was taken out to the locker room limping and did not return. X-Rays, however, turned negative and Porzignis was cleared to play but he did not rejoined the action.
"I knew it wasn't broken. I've had fractures before. I know how that feels and I knew the bones were fine. It was a tendon [worry]. It looked worse than it felt."

– Kristaps Porzingis
The key to winning the game was, once again, ball movement. The Knicks combined 26 assists compared to the 21 made by their opponents. Besides that, shooting was also brilliant. Over 60% from the field unlike the just 38% shot by the Heat. From the defense point of view, New York outrebounded Miami by 21 boards.
Courtney Lee finished with 17 points, Tim Hardaway Jr. added 12 while Doug McDermott added the same, off the bench.
Ramon Sessions got, after quite some time, plenty of playtime. In his 24 minutes spent on the floor, the forgotten point guard scored 8 points and delivered 6 assists.
Willy Hernangomez was played less but he was extremely effective. In under 10 minutes he dropped 8 points, grabbed 8 boards and blocked 2 shots. Kyle O'Quinn had 9 and 7.
The Knicks improved 11-10 and will take a four days break before getting back at Madison Square Garden to host the Orlando Magic.
***
Rookie Frank Ntilikina did not played because of a sprained left ankle while Joakim Noah, who played earlier in G League for the Westchester Knicks, was inactive.
Six of Kanter's rebounds were offensive.