Knicks beat the Hawks 94-104 for the fourth straight home win
Updated: November 20, 2016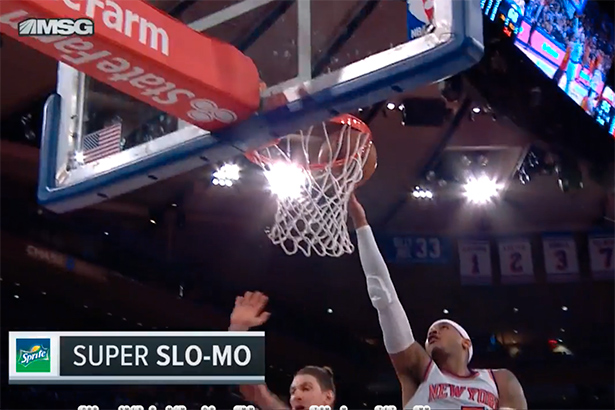 Without Joakim Noah, who missed the game due to an illness, the Knicks sent forward Kyle O'Quinn in the starting lineup, and activated Marshall Plumlee from the Westchester Knicks.
Less than four minutes into the game, the Knicks took the lead and held on to it until the final buzzer. The defense played a major role in this afternoon's success and the absence of the starting Center meant plenty of minutes for Willy Hernangomez. The Spaniard rookie also took advantage of O'Quinn getting in foul trouble late in the first quarter and did a great job defending against former All star Dwight Howard.
Once again, Anthony led the Knicks, scoring 31 points – including 4 three pointers – and grabbing 7 rebounds. As the Hawks cut the lead to a mere couple of points early in the third quarter, Anthony made an 18-foot two pointer that started New York on a 12-0 run. Hernangomez finished with 7 points and 8 rebounds and his 3 point play off Carmelo Anthony's assist put the Knicks up, 51-65, for the highest Knick lead.
Kristaps Porzingis had another double-double, with 19 points and 11 rebounds, shooting 8-15 from the field. Getting benched in the third for getting in foul trouble, called for Derrick Rose and Courtney Lee to step in and catalyze the 3rd quarter run. Rose had 14 points and 7 assists, while Lee had the same amount of buckets, including 2 three pointers, to which he added 5 assists and 2 steals.
O'Quinn logged 17 minutes, mostly in the first quarter, and finished with 8 points and 8 rebounds.
Plumlee made his debut in the NBA but played only 5 minutes as he had a hard time guarding Howard. The Hawks' center scored 18 points and grabbed the same number of rebounds but couldn't help his team get their 10th win.
The Knicks improved 6-7 as they won their fourth straight home game, and they will host the Trail Blazers on Tuesday night.