Knicks fall 102-104 to NBA's worst as Porzingis misses the buzzer beater
Updated: December 10, 2017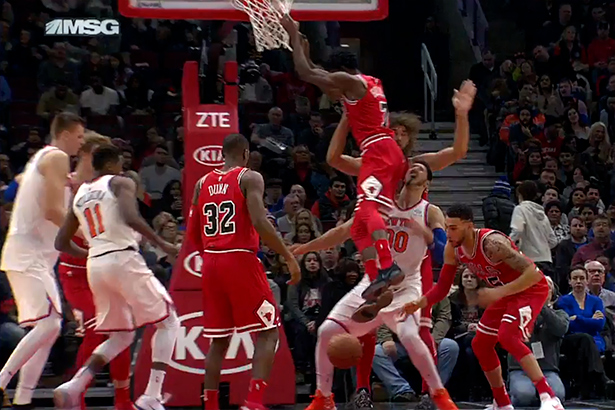 Kanter taking a hard one (MSG Capture)
The Knicks just can't find a way to win on the road even if they play against the NBA's worst team. Last night, they dropped 102-104 in Chicago and are now 1-8 when playing away.
New York trailed for most of the game except for a short period in the closing minutes of the third quarter when they successfully came back from a 13 point deficit but couldn't do the same in the fourth.
Down by ten points with 2:03 left to play, the Knicks went on a 10-0 run to tie the game 102-102 with 8 seconds on the clock but Kris Dunn was fouled by Courtney Lee on Bulls' final possession and the point guard made both free throws.
The Knicks still had 2.4 seconds to tie it or win it but Kristaps Porzingis' 25-foot three pointer rimmed out and the Bulls tied their first victories of the season, improving to 5-20.
Coach Jeff Hornacek was visibly frustrated after the game and blame the loss on the poor effort in the first quarter when the Bulls took a 13 point lead.
"The game was lost way in the beginning. That team had travel issues. We come out at the start not ready to play and let them get out to a big lead. There's no excuse for that. We talked about that — to hit them hard at the beginning of the game. Instead, we were floating out there."

– Jeff Hornacek
Capture / MSG
Porzingis, who scored a game-high 23 points but shot 1-7 from behind the arc, took full responsibility and admitted that they struggled in the start.
"I feel like I let my teammates down. And I'm not talking about the last shot, just in general the whole game. We can't start games like this and I can't start games like this. We have to play at a better level and I have to play at a better level from the beginning. So I take full responsibility for this loss."

– Kristaps Porzingis
The Bulls were sparked by the return of Nikola Mirotić, who missed two months following an altercation with teammate Bobby Portis, which resulted in facial fractures and a concussion. Mirotic scored 19 points off the bench helping Chicago to tie two wins after the previous night he helped them win in Charlotte. Dunn finished with 17 points, 9 assists and 7 rebounds while David Nwaba and Lauri Markkanen scored 15 each.
Courtney Lee had a strong fourth quarter when he scored 11 of his total 14 points. Enes Kanter scored 10 and grabbed 11 boards and Frank Ntilikina finished with 10 points and 7 assists. Doug McDermott and Kyle O'Quinn added 10 points each, as well.
The Knicks are now 12-13 and will return to the Garden tonight to host the Hawks (6-19).