Knicks complete the seven game road trip with win in Phoenix (107-85)
The last game of the road trip was a breathe of fresh air for the Knicks. Phoenix Suns are a struggling team and they allow the most points per game in the league. Against the Knicks, they didn't try to resist. New York dominated the game on both ends of the floor and in the end, they blown out their opponents by 22 points.
---
| | 1 | 2 | 3 | 4 | T |
| --- | --- | --- | --- | --- | --- |
| Knicks | 33 | 20 | 28 | 26 | 107 |
| Suns | 23 | 26 | 18 | 18 | 85 |
---
The Suns had a chance of getting their only lead of the game in the second quarter but Josh Jackson missed a free throw and he just tied the game at 39. From that moment on, the Knicks built a 17 point lead in the third quarter, which they extended to 25 in the fourth. Phoenix never came close.
Enes Kanter led the Knicks with 20 points and 10 rebounds and added to his trash talker reputation after he provoked Devin Booker's elimination. Booker got his second technical after Kanter blocked him on a layup. Kanter taunted him and Booker lost it and pushed the Turk center.
Booker also got a Flagrant 1 earlier after a hard foul on Tim Hardaway Jr. Hardaway broke loose on a layup and Suns' best player knocked him to the floor, where he laid for a few minutes before returning on the court.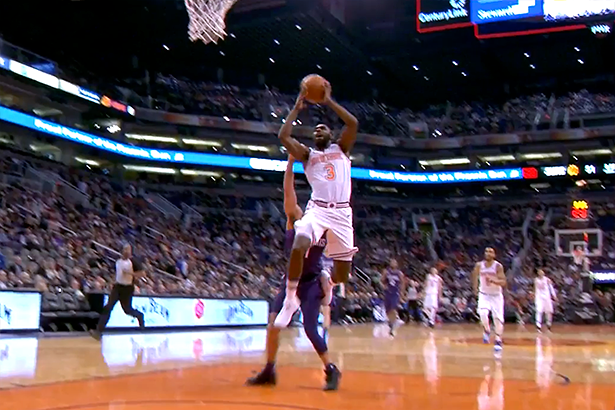 MSG Capture
Hardaway finished the game with 15 points and Kristaps Porzingis added 19 of them. Both players grabbed 7 rebounds each.
After Booker got ejected, it was time for Trey Burke to shine. Burke scored 16 of his total 18 points in the last quarter after shooting just 1-4 in the previous two.
TJ Warren led the Suns with 20 points and Josh Jackson added 18 off the bench.
The Knicks (22-28) lost four of the seven games on the road and will return to Madison Square Garden on Tuesday when they'll try to sweep the Nets. They also haven't won a game by a margin of at least 20 points since November 29th, when they beat Miami 115-86.