Knicks force it into OT but fall to Heat, 103-107
The Knicks lost their third straight game last night, after a thrilling game in South Beach that ended up with Miami taking a 103-107 win.
---
| | 1 | 2 | 3 | 4 | OT | T |
| --- | --- | --- | --- | --- | --- | --- |
| Knicks | 25 | 20 | 26 | 26 | 6 | 103 |
| Heat | 26 | 25 | 24 | 22 | 10 | 107 |
---
Trailing by ten in the third quarter, New York cut it by one in a span of less then 3 minutes and even got in front by five points early in the fourth act. Until the end of the quarter, the game went close like a cat and mouse chase in which no team allowed the other to take control and seal the win.
With 14 seconds left on the clock and down by one, Michael Beasley missed a two pointer, Heat rebounded and Kristaps Porzingis sent Jason Richardson to the free throw line. Both shots went in, giving the Heat a 94-97 lead with 13.2 left to play.
At the timeout, Jeff Hornacek set up a play that would give Courtney Lee the final shot and when the ball got into his hands he tried to force a foul on his 25 foot jumper. His shot hit the rim but Porzingis was there for the rebound; he passed the ball to Doug McDermott who was open in the corner and without hesitation launched a three ball that went straight in, sending the game into OT.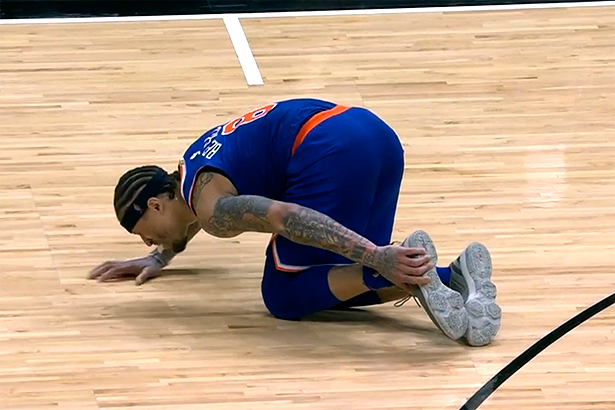 Michael Beasley hurts his left ankle (MSG / Capture)
But as the game advanced, the unthinkable happened. Beasley put the first couple of points on the scoreboard but as he backpedaled, he stepped onto Wayne Ellington foot and went down with a hurt ankle. He was taken out and missed most of the over time period. B-Easy returned on the floor for the final 25 seconds as the Heat just took a 103-105 lead. Jarret Jack missed a jumper and after a controversial decision, the referees gave Miami the ball after reviewing it and noting that Beasley touched it last before going out of bounds.
James Johnson was fouled and made both attempts to put his team up by four, making Lee's final shot irrelevant.
Porzingis was quiet, scoring just 15 points and grabbing 7 rebounds after saying he feels "so tired" a couple of days earlier. He didn't forget to give Beasley credit for what he's been doing lately. The former Heat scored 20 points off the bench and collected 10 rebounds.
"He's bailing us out a lot of times, just playing one-on-one, creating something. We can't keep doing that for long, but a lot of times, he does save us."

– Kristaps Porzingis
Courtney Lee led the Knicks with 24, Enes Kanter had 14 and 8 and Kyle O'Quinn contributed with 10 buckets.
For Miami, all of the starters finished in double figures. The high scorer, however, was Ellington, who scored 24 points off the bench.
Statistically speaking, the Knicks shot better than their opponents, but the Heat forced the three point line more. In fact, Miami attempted 42 shots from long distance making 12 of them while New York tried just 13, with 5 of them going in.
The Knicks are now 2-8 on their last 10 games and fell three games under .500. They still struggle on the road where they won just three games in 14 matchups and on Sunday, they will play another road game, in Dallas, before returning to Madison Square Garden.