Knicks shut down in third quarter, sink 11 games under .500 in loss to Nuggets
Jeff Hornacek has finally lost his temper. After suffering another humiliating loss at home, Hornacek was visibly upset at the post game press conference and said that the Knicks should be embarrassed and accused them of being selfish and forgetting about defense.
"Couldn't guard anybody. Simple as that. They should be embarrassed in the way that they couldn't guard anybody."

Starting with Kristaps Porzingis at the center for the first time this season proved to be in vain as Nikola Jokic outplayed him in both pints and rebounds. Jokic, a second-year Serbian, finished the night with 40 points and 8 rebounds dominating the Latvian sophomore who scored 17 and grabbed just 4 rebounds. Coach Hornacek was unhappy about it.
"He should be quicker than that guy. He might get overpowered at some point, but a lot of his shots, he just lined 'em up. Spun the ball around with the seams and just shot it right. If our guys think that's a challenged shot, we need to redefine what that is."
The only thing that Hornacek was happy about, was the second unit. In his opinion they followed the plan and played the defense as they were supposed to.
Carmelo Anthony dropped 33 points with 21 of them being in the fourth quarter but the comeback didn't happen. The Knicks led by 2 at halftime, then trailed by 12 after the third. A comeback would've been possible given Melo's effort but they just fell flat losing 131-123.
---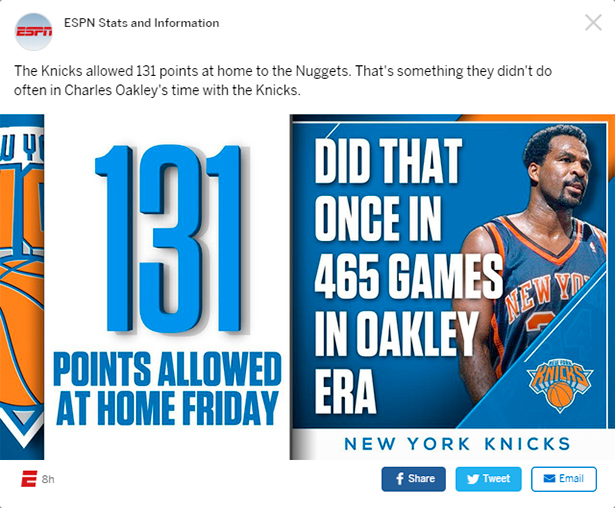 The Oakley incident was not forgotten by fans as chants of "We want Oakley" were heard early in the game. As the game was coming close to end the chants were more and more notable.
Owner James Dolan stated in an interview for ESPN radio that Charles Oakley will not be allowed into the Garden as a result of the incident during Wednesday's night Clippers game.
"It's very clear to us that Charles Oakley came to the Garden with an agenda and from the moment he stepped in, he began with the behavior. We need to keep the Garden a place that's comfortable and safe for everybody who goes there."
Porzingis described the incident as "sad" and noted the fans' loyalty.
"Knicks fans are very loyal. We appreciate that. That's why it's so painful for us and frustrating not giving the fans what they want."
Falling 22-33, the Knicks will host the San Antonio Spurs on Sunday afternoon on national TV.