Knicks survive another OT, defeat Jazz 118-111
Updated: January 21, 2016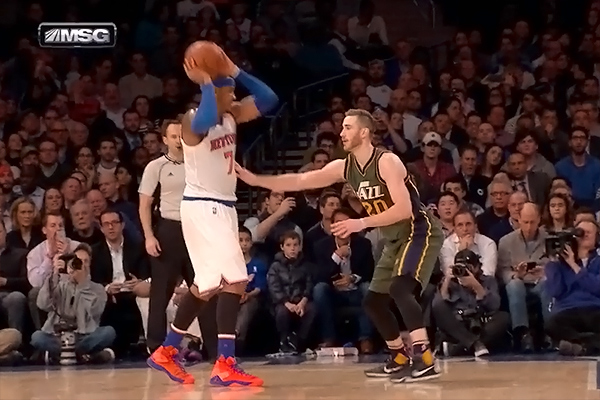 MSG screen capture
The Knicks were controlling the game in the last minute, and were up by 4 with 15 seconds to play (after they had 13 in the third quarter). Rodney Hood quickly drowned a three in spite of Arron Afflalo's effort. Kristaps Porzingis is fouled at the inbound pass and makes both free throws. But then, he commits a huge rookie error and fouls Gordon Hayward on a three point attempt. Hayward makes all three and ties the game at 99 sending it into overtime.
Derrick Williams stepped up again for New York and scored 7 of his total 18 points in overtime (including a three pointer and a layup made after hustling under the hoop for an offensive rebound of a ball that tipped 5 consecutive times), as the crowd started to chant his name.
"It's amazing. As a little kid, you dream about stuff like that."
 – Derrick Williams
Once again, Carmelo Anthony was the most consistent Knick. Anthony had a game high 30 points shooting 13-20, dished 9 assists and rebounded 7 times. In the overtime he passed Larry Bird in the NBA all time scoring list. Anthony is now 20 points away from Gary Payton who ranks 30th in the list.
Robin Lopez finished in double-double with 22 points and 12 rebounds while Porzingis ended with 16 points and 5 rebounds before being fouled out. Afflalo scored 14 points while Jose Calderon and Langston Galloway scored each 9.
The Knicks are now once again back at .500 and are hosting the Clippers on Friday night.