THJ returns to the starting five and scores 31 as the Knicks hold on to beat the Jazz, 117-115
Updated: January 20, 2018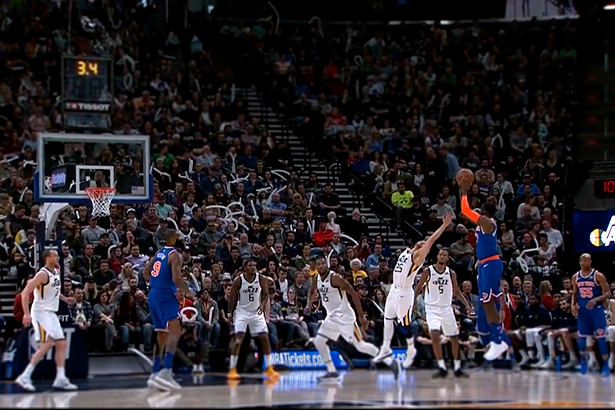 AT&T Sportsnet / Capture
Tim Hardaway Jr. returned in the starting lineup and his effort helped the Knicks contain the Jazz in a close victory on the road, 117-115.
---
| | 1 | 2 | 3 | 4 | T |
| --- | --- | --- | --- | --- | --- |
| Knicks | 22 | 27 | 36 | 32 | 117 |
| Jazz | 25 | 30 | 23 | 37 | 115 |
---
Hardaway Jr. scored a game high 31 points while shooting 11-17 from the field, including 6-7 from behind the arc.
"I think I'm just getting accustomed to everything, getting my feet wet, getting my rhythm back. It's one game. It felt good. Came here yesterday with some of the guys. Got a lot of shots and a lot of reps up in here. Ran up and down a little bit to get our wind. It really helped us out today. That played a huge part in my individual success and in other guys' as well."

– Tim Hardaway Jr.
The best part of his performance came late in the game when his team needed it most. THJ completed a four point play after getting fouled on a three pointer, then added another couple of points with a slam dunk that put the Knicks up 109-100 with 3:21 on the clock.
The Jazz nearly nullified a 10 point lead in the closing minutes after going on a 7-0 run, but in spite of Hardaway missing two free throws with 32 seconds remaining, the home team missed three consecutive three pointers on a single possession, failing to tie the game.
Courtney Lee scored 18 points, but 13 of them came in the third quarter when the Knicks came back from a 10 point deficit and entered the fourth with 7 points ahead of Jazz.
Kristaps Porzingis also scored 18, and Enes Kanter dropped 12 buckets and collected 9 boards. Kanter, who was drafted by Utah in 2011 and played for the Jazz until 2015, was booed throughout the entire game when the ball was in his hands but that didn't affect him.
"I wasn't expecting a jersey retirement anyway."

– Enes Kanter
Michael Beasley led the bench with 10 points while Kyle O'Quinn and Trey Burke scored each 7 points.
Head coach Jeff Hornacek, who's job security started making waves recently was pleased about the win.
"I liked the effort. We just have to continue to be smart. We got to continue to be stronger, continue to be aggressive."

– Jeff Hornacek
The Jazz were led by Rudy Gobert, who played his first game since mid December, with 23 points and 14 rebounds, followed by Rodney Hood with 18 points. Ricky Rubio and Deven Mitchell contributed each with 17 buckets. Joe Johnson added 15 off the bench.
The Knicks are now 21-25 and will take on Lonzo Ball and the Lakers on Sunday afternoon, at Staples Center.