Trey Burke shines in Knicks' loss to Celtics rivals, 121-112
Trey Burke led the Knicks with 26 points in 26 minutes off the bench and also dished 8 assists but his effort wasn't enough to get the win and even the series with the Celtics. Boston got back on track after losing three straight of their previous four games and walked away with a 121-112 win at the Garden.
---
| | 1 | 2 | 3 | 4 | T |
| --- | --- | --- | --- | --- | --- |
| Celtics | 23 | 36 | 29 | 33 | 121 |
| Knicks | 24 | 32 | 25 | 31 | 112 |
---
Burke, who scored the same amount against the Magic, was an instance catalyst, sparking the Knicks from the moment he was sent in. He was however outplayed by All Star Kyrie Irving who scored 15 of his total 31 points in the third quarter, when he went 4-4 from behind the arc.
"The game gets close, all of a sudden he makes two or three pull-up 3s right in a row and all of a sudden now you're down 11 or 12 and you're fighting."

– Jeff Hornacek
Irving also contributed with 9 boards and 8 dimes and Jaylen Brown added 24 points for the Celtics who are now just 0.5 games behind the first seed, the Toronto Raptors.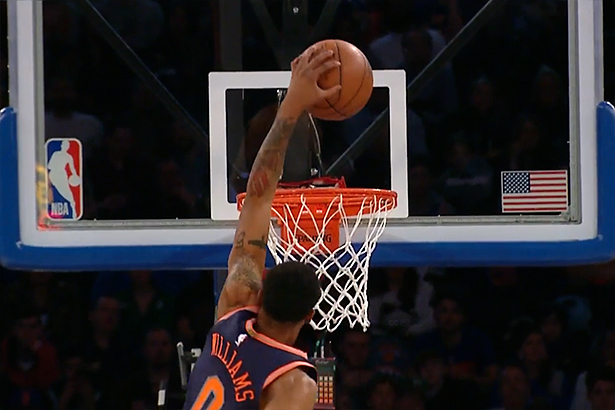 Williams with the put-back dunk(Capture / MSG)
The recently acquired Troy Williams impressed with 14 points and 4 rebounds in 12 minutes on the court, shooting 6-9 from the field. His put-back dunk with 6:39 remaining on the fourth set the Garden on fire as the Knicks cut the lead to three.
Williams, who is on a 10 days contract played the entire fourth quarter and enjoyed his time after playing in just four games while with the Rockets.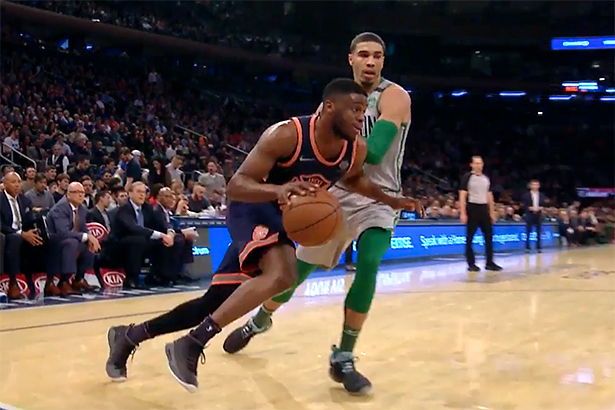 (Capture / MSG)
Emmanuel Mudiay, in his second season start scored 13 points and grabbed 6 rebounds, Tim Hardaway Jr. scored 17 points, Michael Beasley had 15 buckets and 8 boards while Enes Kanter finished with 9 points and 12 rebounds.
The Knicks' road to lottery got closer with this loss in which coach Hornacek gave plenty of time to almost all of his players, Damyean Dotson being the only guy with less then 10 minutes.
Next up – the Knicks will host the defending champs as the Warriors visit New York on Monday evening.